Samsung Ink Cartridges Troubleshooting
I have inserted one cartridge into my printer and I am receiving an error telling me that the cartridge is missing or faulty?
First check if the cartridge is the correct model for your printer
Take the cartridges out of the printer and make sure all the packaging clips and blue tape covering the copper part of the cartridge has been removed from the cartridge.
Then while the printer is on pull the power cable out the back of the printer and leave the printer off for 15 minutes. Doing this will give your printer chance to clear the error
Take the removed cartridge from the printer and rub the circuitry on the front of the cartridge with a moist tissue as shown in the diagram below making sure the circuitry is completely clean and free of any dust or dirt (figure 1.0)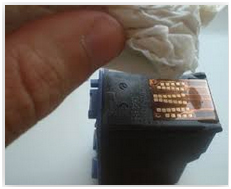 Turn the printer back on and firmly reinsert the cartridges making sure they are fully clicked into place.
I have inserted my cartridge(s) and the print quality is bad or there is no ink at all appearing on the paper.
This is most often the result of ink not being able to flow from a printhead
Remove the cartridge(s) from the printer and make sure all packaging including the blue printhead tape has been removed.
Fold a piece of damp kitchen tissue (or any other non fibrous tissue) a couple of times and clean the printhead making sure there is no dried ink or dirt on the printhead. For best results make sure the water is warm.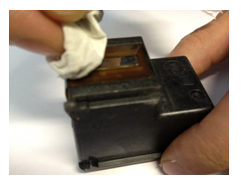 Then sit the cartridge(s) on some moist kitchen roll making sure the bottom on the cartridge (where the ink comes out from) is in contact with the kitchen roll.
Leave the cartridge sitting on the tissue for 20 minutes, and then re-insert the cartridge back into the printer. This is shown in figure 1.2
Now do a few head cleans/Nozzle cleans through the printer software to get the ink flowing

I have just inserted my new cartridge(s) and the ink levels on my computer are showing low or empty.
Remanufactured and compatible cartridges will always show low or empty ink levels because the circuitry on the cartridges cannot be reset. We can assure you that the cartridges are all checked before they are sent out to make sure they are full. Please ignore the ink levels and print as normal.
I am trying to insert the cartridge(s) into my printer but they won't fit.
First check to make sure you have purchased the correct cartridges for your printer.
Remanufactured and compatible cartridges often do look a slightly different shape but they will fit into the printer the same as the original cartridges.
If the cartridge(s) still won't fit then make sure you are placing the cartridge into the correct slot.
Please note that 'photo' cartridges fit into the black slot to replace the black cartridge and must have a working colour cartridge in the printer at the same time
The cartridge appears to be running low sooner than it should based on factory page yield estimates.
Factory page yield estimates are based on average 5% text/graphics coverage on the page. If you are printing graphics or heavy text applications, coverage will be more than 5%. For example, if you coverage is 10%, your cartridge will run out in half the number of pages specified in the factory page yield
Below is a couple of examples with different fonts and spacing of what 5% coverage of a page looks like.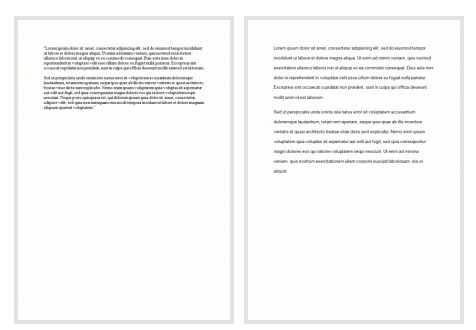 As you can see this coverage does not necessarily represent a typical print for an average user. So it is worth keeping in mind the page yield listed for your cartridge does not necessarily mean you will get that many pages from your cartridge.
How many prints you get out of your cartridge will depend on a number of factors including Size of font you use, Size of font you use, Weight of font you use, Width of page border, and Addition of extras such as graphs, images or simple lines